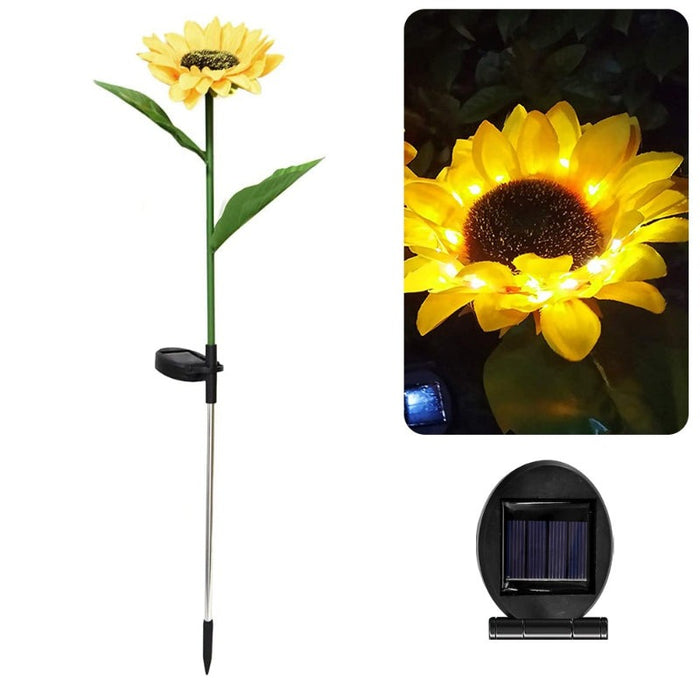 Sunflower Solar LED Outdoor Lights
In Stock

Illuminate your outdoor spaces with the Sunflower Solar LED Outdoor Lights, a high-quality and durable lighting solution that will add a touch of charm to your home or garden.

With its efficient solar power source, this light not only brightens up your space but also helps you save on electricity bills.

Experience the beauty of sunshine and green energy today!
FEATURES:
Power Source: Solar: Harnessing the power of the sun, these lights provide a sustainable and eco-friendly lighting solution for your outdoor areas.

Light Source: LED Bulbs: Equipped with energy-efficient LED bulbs, these lights offer bright and reliable illumination while minimizing power consumption.

Style: Modern: The sleek and modern design of these solar lights adds a contemporary touch to any outdoor space, enhancing its aesthetic appeal.

Solar Cell Type: Lithium Battery: Powered by a lithium battery, these solar lights offer long-lasting performance and reliability.
PRODUCT DETAILS:
Efficient Solar Panel: The solar panel quickly absorbs solar energy, ensuring efficient charging and providing ample power for the solar lights to illuminate your surroundings.

No Wire Needed, Solar Power Lights: Installation is hassle-free with these solar lights. You can skip the electrical wiring process, saving valuable time and effort. Simply place the lights in direct sunlight throughout the day to allow for optimal charging.

Energy-Saving and High-Efficiency Solar Panel: The advanced solar panels used in these lights convert solar energy into electrical energy with exceptional efficiency, resulting in energy savings and prolonged battery life.
 INSTALLATION PROCESS:
Easy Installation & Eco-Friendly: This solar-powered outdoor light requires no additional energy source, making it environmentally friendly. With the included screws, you can easily mount the light on a wall or fence without the need for complicated wiring.
Get your Sunflower Solar LED Outdoor Lights today and create a welcoming ambiance for your home or garden! ORDER NOW