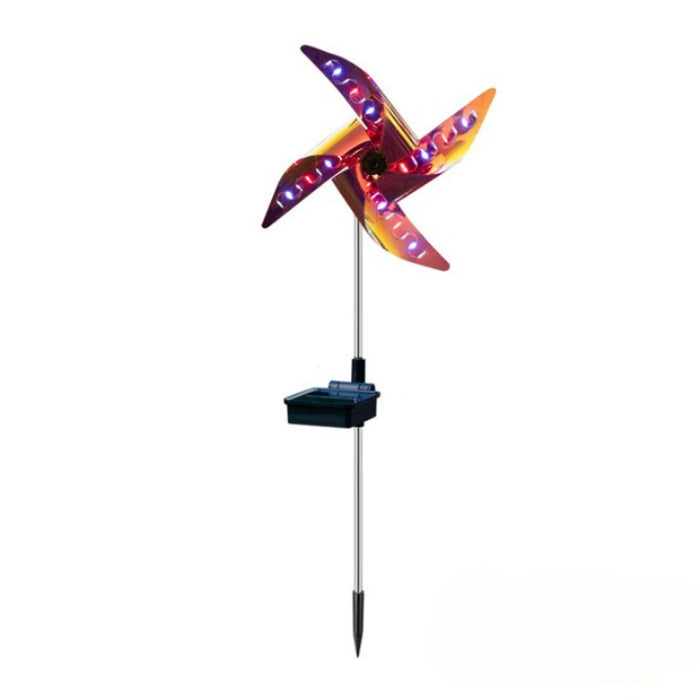 Solar Windmill Garden Light
In Stock

Create a whimsical and enchanting atmosphere in your garden with our stunning Solar Windmill Garden Light.

Designed to set the mood and add a touch of elegance, these adorable flower string lights are the perfect choice for home decor.

Prepare to be amazed by their unexpected beauty and transform your garden into a captivating wonderland, illuminating your surroundings at night.
FEATURES:
Voltage: Operates efficiently at a low voltage, ensuring safe and reliable performance.

Power Source: Harness the power of the sun with these solar-powered lights. No need to worry about electricity consumption or running costs.

Light Source: Equipped with energy-efficient LED bulbs that provide bright and long-lasting illumination while saving energy.

Style: The modern design of these windmill garden lights adds a stylish and contemporary flair to any outdoor space.
PRODUCT DETAILS:
Efficient Solar Panel: The solar panel quickly absorbs solar energy, ensuring efficient charging and providing ample power to illuminate your garden.

No Wire Needed, Solar Power Lights: Say goodbye to complicated electrical wiring. These solar lights are incredibly easy to set up, saving you valuable time and effort. Simply place the lights in direct sunlight throughout the day for optimal charging.

Energy-Saving and High-Efficiency Solar Panel: The advanced solar panels used in these lights convert solar energy into electrical energy with remarkable efficiency, resulting in energy savings and extended battery life.
SPECIFICATIONS:
Voltage: 1.2V
Power Source: Solar
Light Source: LED Bulbs
INSTALLATION PROCESS:
Easy Installation & Eco-Friendly: The solar-powered outdoor light requires no additional energy source, making it eco-friendly. With the provided screws, you can easily mount the light on a wall or fence without the need for complex wiring.
ORDER NOW