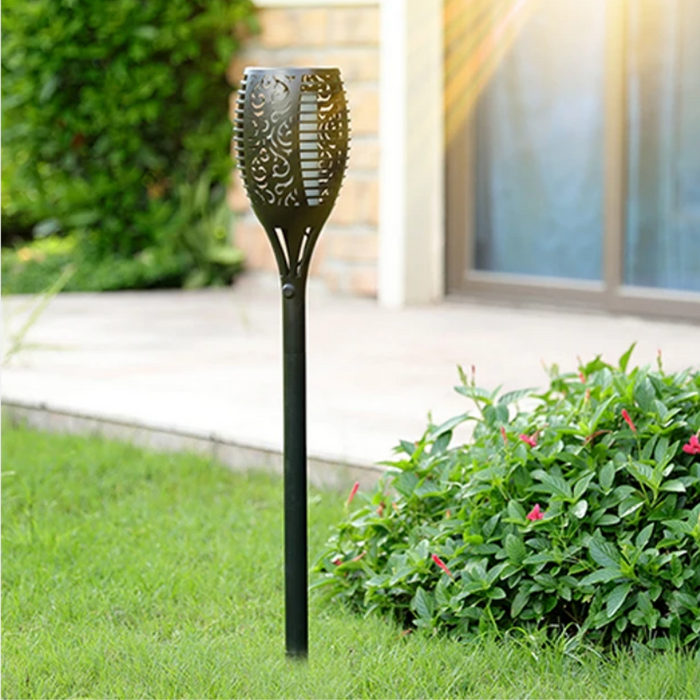 Solar Flame Flickering Lamp Torch
In Stock

Introducing our Solar Flame Flickering Lamp Torch, the perfect lighting solution for any occasion, whether it's a special event or just an ordinary day.

With its mesmerizing warm yellow flickering lights and realistic dancing flame effect, this lamp creates an enchanting and natural ambiance.

Add a touch of attraction to your garden with this captivating solar-powered torch.
FEATURES:
96 LEDS, IP65 Waterproof: With 96 high-quality LEDs and IP65 waterproof rating, this lamp is resistant to rain, snow, and daily sprinkler, ensuring its durability and longevity.
Realistic Flickering Flames: The LED lights flicker in warm yellow hues, creating dozens of flame variations that closely mimic the appearance of real dancing flames. Experience the beauty of nature's flickering fire in a safe and controlled manner.


Built-in Rechargeable Battery: Equipped with a 2200mAh rechargeable Li-ion battery, this solar-powered torch can provide up to 10 hours of illumination in summer and 7 hours in winter after a full charge. Charging time is approximately 8 hours.


Automatic Dusk Activation: The solar torch light collects solar energy throughout the day and automatically turns on at dusk, providing hassle-free and energy-efficient lighting.


Flexible Placement: As a solar-powered light, you can easily place it anywhere you desire without the need for wiring or external power sources. Enjoy the freedom to decorate your garden, patio, wedding venue, party area, yard, or driveway with ease.


Optical Controlled Technology: The unique optical controlled technology ensures that the solar dancing flame light automatically charges during the day and illuminates at night. Let the light take care of itself and bring enchantment to your surroundings.


Easy Installation and Weatherproof: The lamp is easy to install and designed to withstand various weather conditions. It is both waterproof and resistant to sun damage, ensuring reliable performance throughout the year.


PACKAGE DETAILS:
Package Dimensions: 12.6 x 4.7 x 4.7 inches
Package Weight: 1.2 pounds