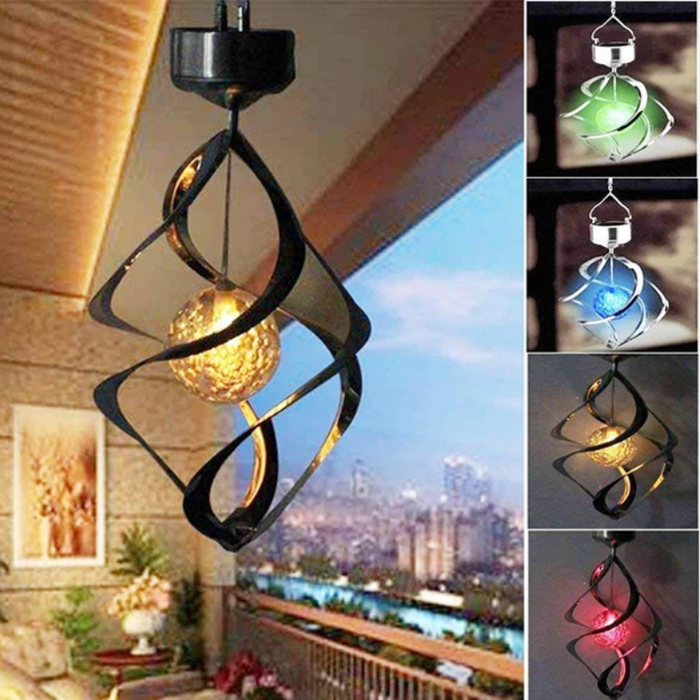 Colorful Solar-Powered LED Wind Chime Light - Eco-Friendly Outdoor Decoration
In Stock

Enhance your outdoor space with our LED Color Changing Solar Wind Chime Light. This innovative and efficient light is powered by solar energy, eliminating the need for wiring and ensuring eco-friendly operation. During the day, the solar panels charge the batteries, allowing the built-in sensor to automatically activate the LED lights at dusk.
Experience the mesmerizing beauty of this spiral light as it gracefully rotates with the gentle touch of blowing winds. Whether you place it at your home entrance, patio, or backyard, this wind chime light adds a charming and whimsical touch to your outdoor décor. It's also the perfect addition to create a festive ambiance during the holiday season.
Highlights:
Solar-powered: Harness the power of the sun with these solar panels, eliminating the need for external power sources and saving on electricity costs.
Metal construction: Crafted with a durable and stylish metal finish, this wind chime light offers both beauty and longevity.
7 Color Technology: Enjoy a stunning array of colors, including red, green, blue, yellow, purple, and more, as the LED light cycles through its vibrant spectrum.
Charging time: Experience quick and efficient charging with a charging time of 6-8 hours in direct sunlight.
Working time: Once fully charged, this wind chime light provides illumination for 6-8 hours, ensuring a delightful display during the evening and night.
Material: The wind chime light features a combination of stainless steel and plastic, providing durability and resistance to outdoor elements.
Color: The wind chime light comes in a sleek silver color, complementing various outdoor settings and decor styles.
Package Includes: You will receive 1 x Solar Powered Wind Spinner Hanging Spiral Light and 1 x User Manual.
Note: Before exposing the solar panel to sunlight, remember to switch "ON" the light located on the back of the solar panel. After charging, place your palm over the panel to cover it and ensure the light is turning on properly without exposure to sunlight.
Bring enchanting and colorful illumination to your outdoor space with our Solar-Powered LED Color Changing Wind Chime Light. Create a welcoming atmosphere and enjoy the benefits of renewable energy with this decorative and energy-efficient addition to your outdoor décor.