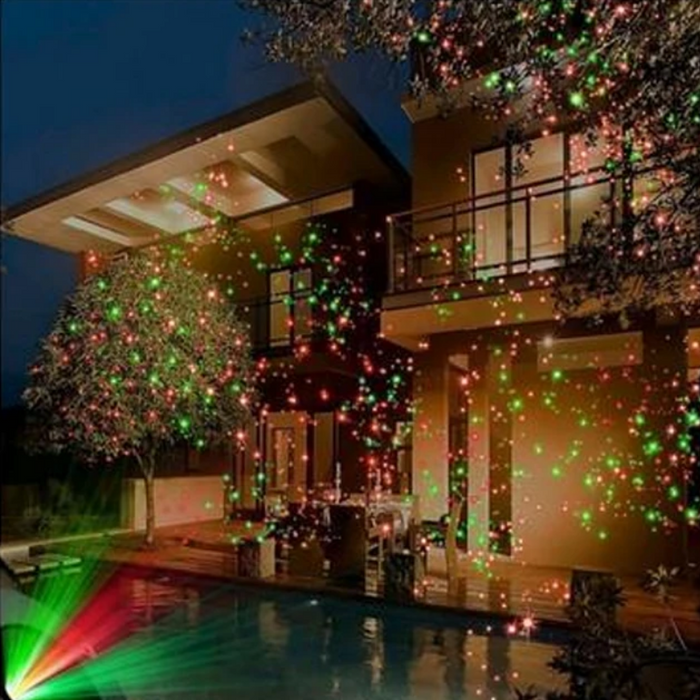 Outdoor Laser Fairy Light Projection - Festive Holiday Decoration
In Stock

Transform your garden or house into a magical wonderland with the Laser Fairy Light Projection. This innovative lighting solution instantly saturates your surroundings with stunning green and red lights, creating a captivating display. With a coverage of up to 650 square feet, it's ideal for Christmas and holiday entertainment, parties, and landscape decoration. Get ready to immerse yourself in a festival atmosphere with this enchanting light projector.
Features:
Dual Laser Colors: The Laser Fairy Lights combine two laser colors, creating a mesmerizing blend of green and red lights that add depth and vibrancy to your space. Experience a dazzling light show that will captivate both young and old.

Energy-Efficient Design: With three built-in lasers, this light projector produces an impressive display from a single source, resulting in lower energy consumption. Enjoy a stunning light show while being mindful of the environment.

Tangle-Free and Durable: Say goodbye to the hassle of untangling and replacing Christmas lights. The Laser Fairy Lights provide a convenient and durable alternative, ensuring a hassle-free setup and long-lasting performance.

Versatile and All-Occasion: Whether it's Christmas, Halloween, or any other special occasion, these lights are designed to create a festive ambiance. Suitable for both indoor and outdoor use, they can be used as a standalone display or as a captivating background for your light show.
Illuminate your surroundings with the Laser Fairy Light Projection and bring joy to every celebration. Experience the magic and convenience of this innovative lighting solution today.