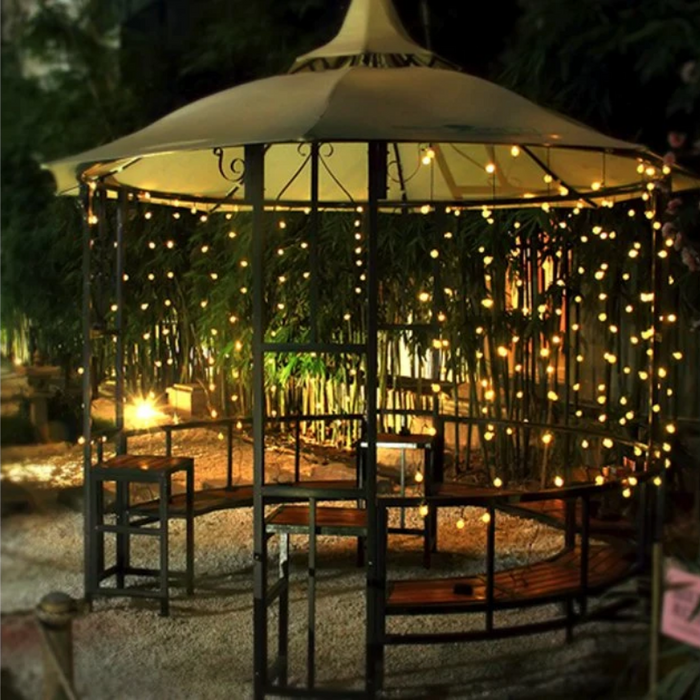 20 LED Solar-Powered Crystal Ball String Lights
In Stock

Enhance your outdoor ambiance with our stunning 20 LED Solar-Powered Crystal Ball String Lights.

Designed to captivate, these enchanting lights charge during the day and create a mesmerizing illumination at night.

Transform your gardens, patio, lawn, porch, gate, yard, and more into a magical wonderland.

FEATURES:

Waterproof and Versatile: Our string lights are waterproof, making them suitable for both indoor and outdoor use. Transform any space into a magical wonderland, regardless of the weather.
Efficient Solar Power: The solar panel, supported by a 20cm garden spike, harnesses the sun's energy to power the lights. Enjoy hassle-free installation and sustainable energy savings.

Dual Switches for Ultimate Control: Our lights come with two switches, allowing you to customize your lighting experience. The Mode switch offers various lighting effects, while the Power On/Off switch automates light control and charging.

Multiple Light Color Options: Choose between a warm and cozy Warm White glow or a vibrant and dynamic Multi-Color display. Create the perfect ambiance for any occasion.

Long-Lasting Battery Performance: Enjoy over 8 hours of continuous illumination at night, provided the solar panel absorbs sufficient sunshine during the day.

Impressive Luminosity: these lights create a radiant and captivating glow, enhancing the beauty of your surroundings.

Quick Charging Time: The solar panel only requires 6 hours of charging time to ensure your lights are ready to shine all night long.

Flexible Light Modes: Choose from 2 light modes - Long Bright and Single Flash - to suit your preferences. With the option to manually switch between modes, you have full control over the lighting effects.

Durable and Long-Lasting: The high-quality LED bulbs boast a lifespan of 5000 hours, providing enduring beauty and reliability.

Intelligent Control: Our lights feature a light-operated and button control method, allowing you to effortlessly customize the lighting experience.
SPECIFICATIONS:
LED Quantity: 20pcs
Solar Panel: 2V 100MA
Battery: Built-in 600mAH NI-MH battery
Lumens: 100LM
Charging Time: 6 hours
Working Time: 8-10 hours
Light Modes: 2 (Long Bright and Single Flash)
Flash Mode: Long bright and single flash
Length of String: 4.8m
Length from Solar Panel to First Stake: 1.5m
Control Method: Light-operated + buttons
Working Temperature: -20°C to +60°C
PACKAGE INCLUDE:
1 x Solar Panel
1 x 20cm Spike
1 x 20 LED Solar String Fairy Lights
Order now and transform your surroundings today!