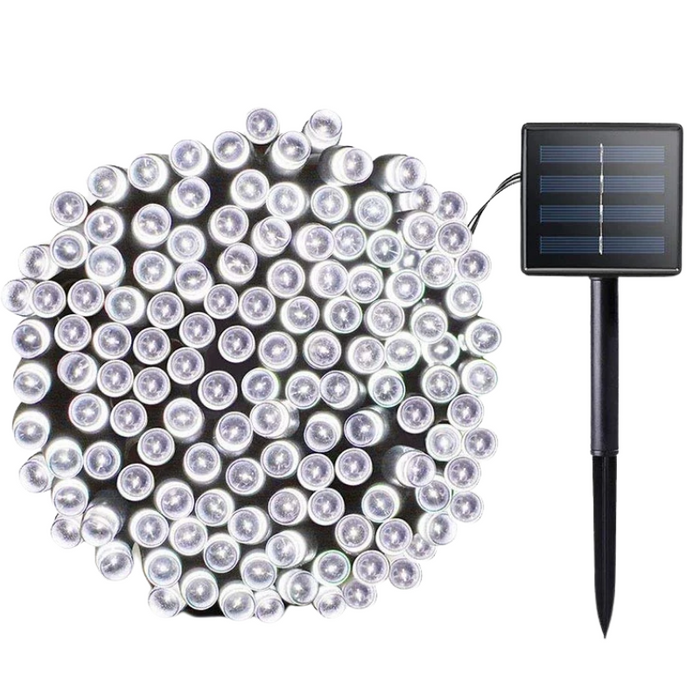 Solar Power LED Fairy Lights
In Stock

Introducing our Solar Power LED Fairy Lights, the perfect solution for hassle-free and cost-efficient decorating.
With these lights, you can transform any space into a magical wonderland without the need for outlets or worrying about safety hazards.

Let your creativity soar as you decorate anywhere and everywhere, free from the limitations of nearby power sources.
FEATURES:
No energy costs: No outlet needed: These solar-powered lights harness the power of the sun, eliminating the need for electricity and reducing your energy costs. Say goodbye to expensive electricity bills!
Solar power charges lights by day, turns on automatically: During the day, the solar panels soak up the sun's rays, charging the built-in battery. As dusk falls, the lights automatically turn on, creating a mesmerizing display that adds a touch of enchantment to your surroundings.


100 lights, 55 feet length: Our fairy lights come in a string of 100 bright and captivating LEDs, providing ample illumination and allowing you to decorate large areas. With a generous length of 55 feet, you have the flexibility to wrap them around trees, fences, or any other structure.


Decorate anywhere without dangerous extension cords: Bid farewell to tangled and hazardous extension cords. Our solar-powered fairy lights give you the freedom to decorate even the most remote areas without the worry of tripping over cables or causing accidents.


Illuminate your world and let your creativity shine with these exquisite solar-powered fairy lights. ORDER NOW